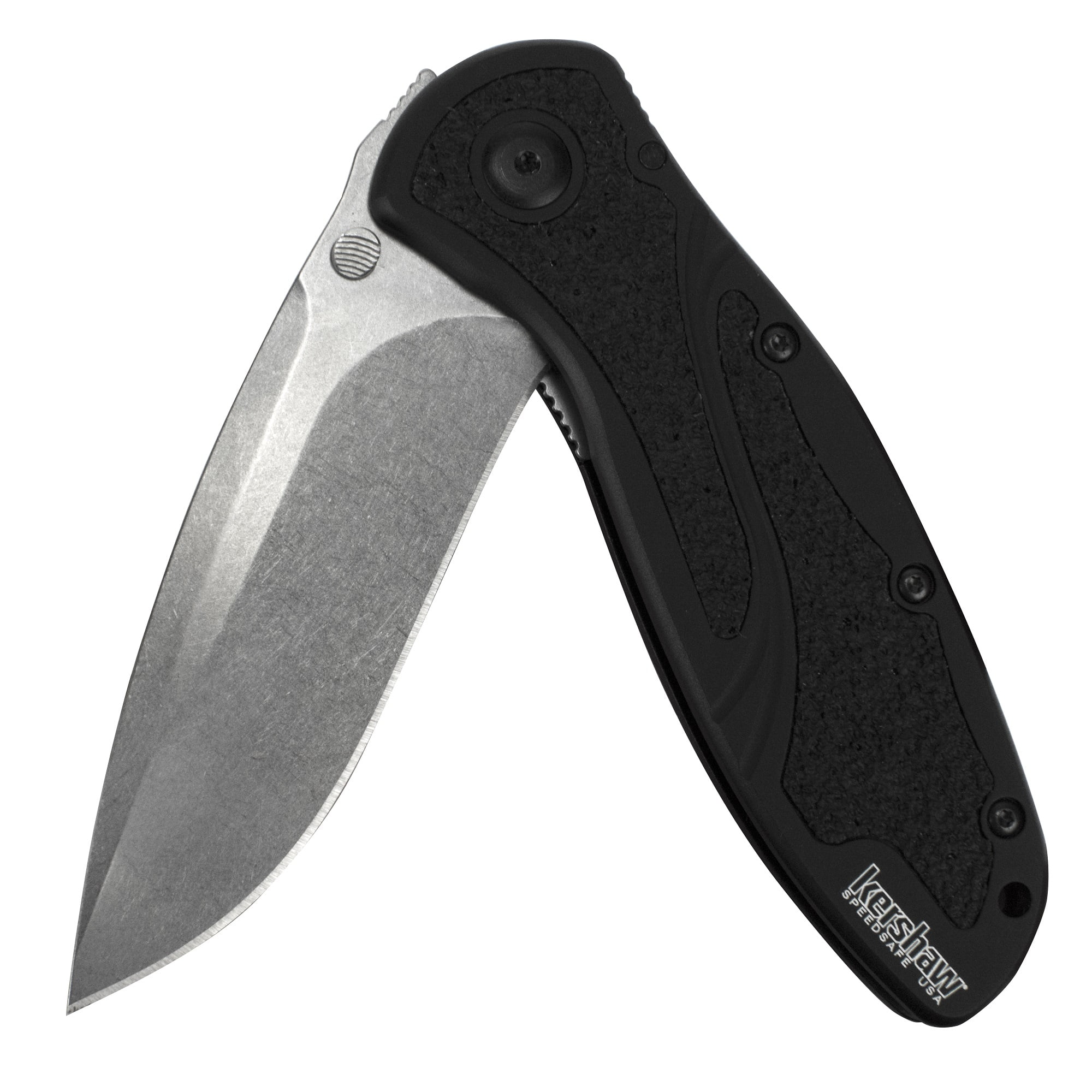 Kershaw Blur S30V Folding Pocket Knife (1670S30V); 3.4" S30V Blade with StoNewashed Finish and Anodized Aluminum...
$81.56
In stock at Walmart - Click More Info / Buy Now to check for price rollbacks!
on 10-3-2018.
BUY NOW
Item Description

Kershaw Blur S30V Folding Pocket Knife (1670S30V); 3.4 inch S30V Blade with Stonewashed Finish and Anodized Aluminum Handle with Trac-Tec Inserts, SpeedSafe assisted Opening, Reversible Pocketclip; 4 OZ.
3.4-inch blade made of S30V stainless steel with a non-reflective, stonewash finish for a tough cutting edge that is resistant to wear and corrosion
S30V powdered steel is a premium blade steel with fine, high-density grain, enabling it to hold an extremely fine edge over a longer period of time.

Anodized aircraft aluminum, bonded with basic black dye and fitted with black Trac-Tec grip-tape inserts for a strong, sturdy handle, highly resistant to scratches and fading.

Slightly recurved blade exhibits excellent slicing and piercing capacity, perfect for a wide variety of tasks including making fire kindling, cleaning game, cutting rope, aggressive animal defense, bushcrafting skills, slicing fruits and vegetables and cutting zip ties.
Trac-Tec grip tape gives the S30V Blur excelling holding power, ideal in a wide variety of conditions such as wet, slimy, or cold conditioons.

Highly functional, reliable, folding pocket knife, perfect for discreet, everyday carry in pockets, belts, backpacks, jackets, and on belts.

The handle provides secure gripping power in a wide variety of environments and is ideal for hunters, backpackers, fisherman, hobbyists, wilderness guides, farmers, homesteaders, first responders and more.

Equipped with Kershaw's SpeedSafe assisted opening system, with the blade's thumbstud, for quick and easy ambidextrous blade operation, keeping fingers safely out of the way.
Liner lock securely locks the blade open during use, ensuring more confident blade control and preventing accidental closure.
Reversible pocketclip enable the user to change either the tip position or the side on which the knife carries and a pre-drilled handle allows for additional carrying capacity on a lanyard or keychain.
For proper care and maintenance of the S30V Blur, use with Kershaw's Ultra-Tech Blade Sharpener for a razor-sharp edge, every time.
For additional information on the S30V Blur, visit Kershaw's website at: https://kershaw.kaiusaltd.com/knives/knife/blur-s30v
Blade lenth 3.4 in (8.6cm); Closed length 4.5 in (11.4cm); Overall length 7.9in (20cm); Weight 4 oz (115.4 g).
Made by Kershaw's skilled knifemakers in Tualatin, Oregon, with high-performing, premium materials and backed by a limited lifetime warranty.

Buyer Reviews
This is the first Blur I've owned. I own about ten other Kershaw knives, and I like them all, but this is also the first knife I've owned with an S30V blade. Awesome steel! It came razor sharp from the factory, and it seems that it will stay sharp with a little stropping now and then. When necessary, I plan to use a Smith's Diamond Precision Knife Sharpening System, which works well with many steel types. The Speedsafe assisted opening works flawlessly and the knife is light for its size. Using the attached pocket clip, I don't even notice the knife is in my pocket. It would be nice if the Blur had a flipper because that's what I'm used to, but the thumbstuds work fine. I would recommend this knife to anyone! It is great, and Walmart did a great job advertising, shipping and keeping me informed.
Features & Specs
3.4-inch non-reflective S30V stainless steel blade

Basic black anodized aluminum handle with Trac-Tec grip-tape

Same design and feel as other Blurs, with a premium blade

Ruggedly handsome, stonewashed blade finish with stealthy all-black handle construction provides for a multitasking, low-profile, high-performance, everyday carry

Quick, single-handed access to the blade with assisted opening system is dependable, always ready when needed, and capable of lasting a lifetime

---