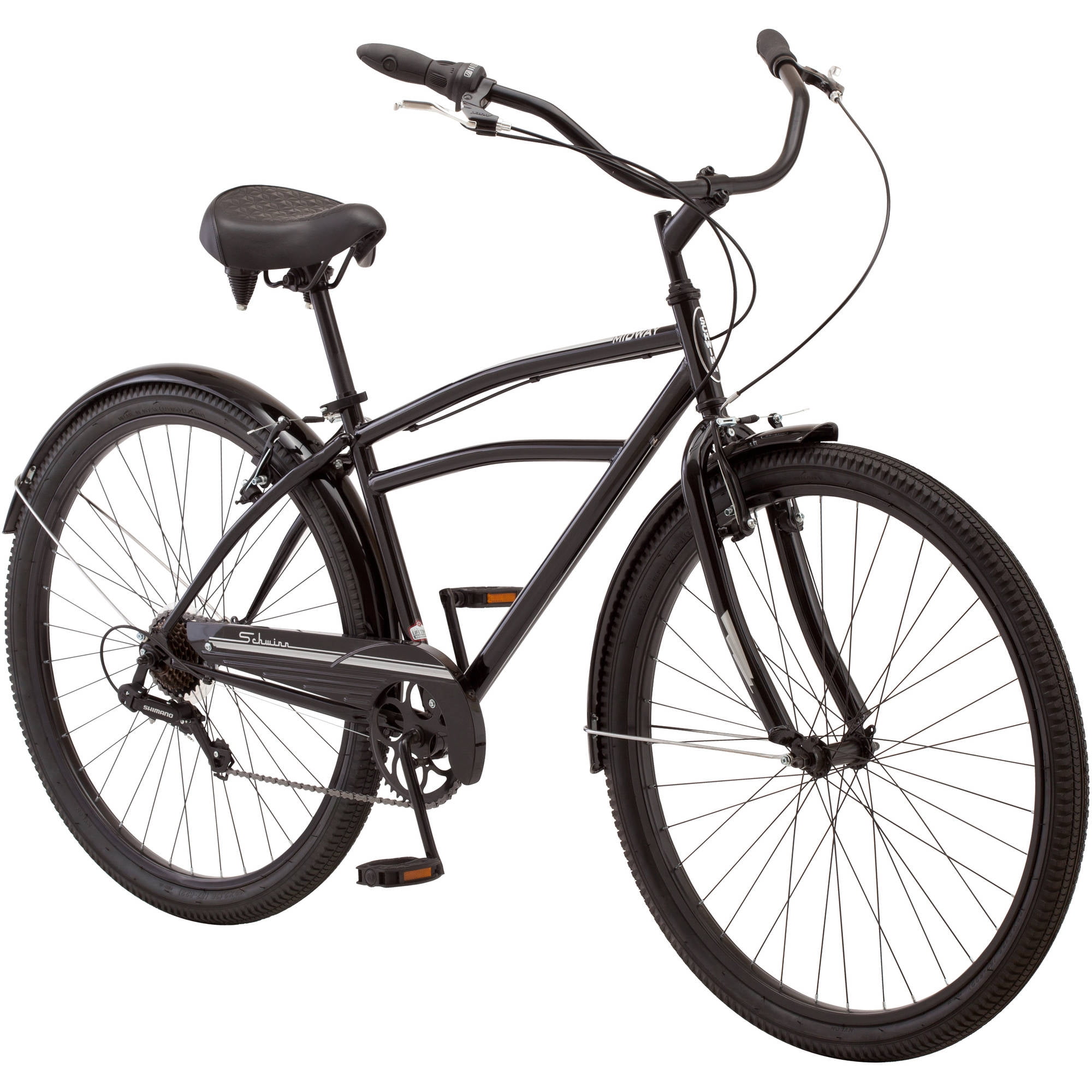 Schwinn 29" Men's Midway Cruiser Bike
$149
In stock at Walmart - Click More Info / Buy Now to check for price rollbacks!
on 10-2-2018.
BUY NOW
Item Description
29 inch Schwinn Midway Men's Cruiser Bike:
29 inch men's cruiser bike age range: adult
Limited lifetime warranty
7-speed shifters with Shimano derailleur
Steel cruiser style frame with coordinating fenders, grips and seat
Front and rear linear pull brakes
Assembled dimensions: 70L x 25.5W x 43H
Training wheels? no
Brakes: front and rear linear pull brakes
Seat: padded Schwinn quality spring seat
Frame: steel cruiser style frame
Buyer Reviews
I did not buy this Online, I got it at a local Walmart so I may never be 'verified' but I may post a picture of both bikes I'll be mentioning for proof later. First off, I'm 55, 148 pounds and 5'6\". Despite the in store advertising that the Midway is for people 6ft and taller, it fits me just fine. So how did I end up at the Midway? Well first we have to go back to buying the wife a Schwinn Perla which Walmart didn't stock locally (or was out of). So a competitor it was, as I needed it now. Why I mention that will be more evident later. After that purchase I started thinking about getting a bike for myself so we could ride together. But I wanted something compatible with hers in terms of features and capabilities. She is 7yrs older than I am, but I've had a heart attack (yeah they don't care how old you are) so I figured I could better gauge if I'm working her to hard based on how I feel if we had similar bikes. But it needed to be something that I could actually ride, road bikes and mountain bikes both make my shoulders and lower neck sore very quickly. And frankly I'm getting bored walking 20k steps everyday to boot. The first Walmart I stopped at didn't have anything for me, but I recalled the competitor had something that might have fit the bill. That was a Schwinn Costin, slightly more expensive than the Midway and same price as the Perla. But it looked like it was used and returned to the shelf so I passed. The next day on a whim, I stopped at a different Walmart and came across the Midway. I instantly loved the look of it (looks way better in person, as does the Perla for that matter). It appeared to be the same bike as the Costin at a lower cost point for some reason. In hind sight I'd learn that difference was likely in factory assembly, I believe the Costin got more attention during assembly at Schwinn but I might be wrong. Mainly in the wheel truing department. Lots of (misguided) complaints about Midway wheel being Bent... Their not bent, they're just not trued accurately. Both of my Midway wheel are out of true, neither of the Perla wheels are. Back to the Midway, I didn't buy it just then. I went home to finish the process of verifying the assembly of the wife's Perla. When I had that I done, I took it for a planned 2 mile night test ride. Better something go wrong while I'm on it than her. Well... that was so comfortable to ride that it turned into a 10 mile night ride instead. When I got home, I change my shirt and told her I'd be back in a few. Headed of to Walmart to get the Midway (if it was still there =/ ) and surprise her yet again. Thankfully it was there, purchased it, took it home and started another round of verifying assembly. It's a simple fact, buy big box and you have to verify that the bike is setup right before riding it... Walmart nor any of the others are contracting assembly to a professional bike person. It's on you to validate its assembly, or go get it tuned up by a pro if your not sure how. Not really fair to post a review saying the 'bike' is junk because it wasn't put together (or adjusted) right. Or go pay MSRP at a bike shop that does it before they sell it (but not always)... Everything I've said about the Perla is true with the Midway (barring the wheel trueness). It's a joy to ride, feels very solid, stops well, gear shift while not as smooth as a $900 bike it shifts well with only a slight clunk engaging your new gear (and I have a theory on this, untested and not validated with a pro, I suspect the Midway chain is about 5 links to small as the derailer is nearly fully extended in 1st gear). That said I've no problems changing gears in either direction. The gear selector as a smooth action though I wish it was marked 1, 2, 3....7 instead of the pictures.. The seat has been solid, not changing it position while riding, handle bars are the same way. No problems leaning hard of them. Tighten them!! If you don't have a longer hex wrench use a Small (maybe 6in) pipe or something (I used a nut driver that had a deep depth) to add some leverage. Tires on both bikes were inflated to 40lbs, but I lowered them to 38lbs to soften the ride a bit. But they haven't exploded, have around 40miles on the bike now. The seat, it's comfortable.. for a while (as it comes out of the factory), but take a moment and notice the seat in the ad here, and how Schwinn supplied it... If off the shelf, or out of the box makes the top back of your legs ache (or feel pressure from the seat edge) it might be because the tilt of the seat is wrong. Out of the factory, the back of the seat is flat and the front is suggestive of a hidden purpose. Loosen that bolt under the seat (a lot) and lower the front so the seat looks more like a cradle (as in the pictures here), and retighten it. It just may make a big difference for you, it did for me. If the wheels were true and I didn't feel like the chain was missing a few links, I might rate it 5 stars. However, I've not been able to find a rear rack that will work on this bike for me. Even Schwinn's add on rack won't work, as I'd need to adjust the seat to it's max height before the rack will clear the fender. Lastly, addressing the effort to ride this bike, it's not bad.. but it could be better. The gearing is a tad high for the lowest gears. Up hill, or into a strong wind you will get a work out. Another mentioned that 1st feels like 3rd on a road bike (aka 10 speed style bike). But in fairness I'll reclaim my age, general health and the fact that's it's been a few years since I last rode. A month from now I may have a different point of view on that... All in all, I think it's a very good value and a dang good looking bike. I'd have no problems at least suggesting to anyone looking for a retro styled cruiser with some more modern features.
Features & Specs
Age Range: adult
7-speed shifters with Shimano derailleur
Steel cruiser style frame
---