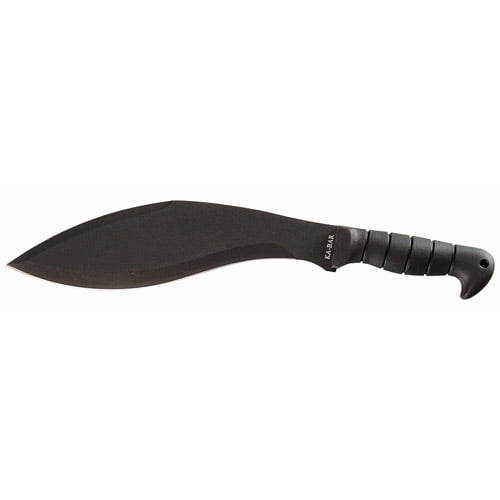 Ka-Bar Black Kukri Machete
$48.1
In stock at Walmart - Click More Info / Buy Now to check for price rollbacks!
on 9-17-2018.
BUY NOW
Item Description
Ka-Bar Black Kukri Machete:
Blade length: 11-1/2
Weight: 1.26 lbs
Handle: Kraton G
Overall: 17
Steel: 1085 carbon
Sheath: Leather
Buyer Reviews
This stocky machete differs from the standard ones because it has more than one or two uses. It is truly a multi tool for your outdoor activities. The full tang blade is 1085 carbon steel and holds a very sharp edge. Minor care must be taken so the edge of the blade does not sit in water and oxidize. There is very durable coating of paint on the rest of the blade to protect it. Sheath is good quality made of Leather/Cordura with a belt loop and keep the machete safe and secure. Overall a great buy an excellent transaction.The Kukri multi tool:1. Point TakenThe point can drill, scrape, open cans and poke holes. To skin big game, grip the spine with one hand and use the tip to do the work.2. Leading EdgeThe top of the blade is the machetes sweet spot. Use it to bushwhack, dispatch game, clear shooting lanes and"if youre brave and have a steady hand"shave your beard.3. Middle ReliefThe middle third will chop limbs, fell trees, head fish or game, and slice or dice meat. Grip the spine at both ends and push or draw this part of the blade to shape tools, strip bark for rope, or shave tinder or kindling.4. Fine TouchThe bottom third is short, solid, and easy to control. Its perfect for precision cutting, making fire sticks, whittling, and sharpening pencils or gigs.5. Dull MomentThe bottom 2 inches are blunt. This part will hammer, strike fire steel, and open beer bottles. For precision work, move your grip up so your index finger and thumb are here. This shortens the tool and puts your hand at its center, giving you more control.6. Back to BasicsThe spine will scale fish, crack nuts, drive nails, or break off  dead limbs. You can also hit the spine with a heavy stick to force the blade to split logs.7. Flat TopThe flat side of the machete, toward the point, is a basic but effective shovel. And itll flip a steak in a pinch.
Features & Specs
Blade length: 11-1/2\"
Weight: 1.26 lbs
Handle: Kraton G
---