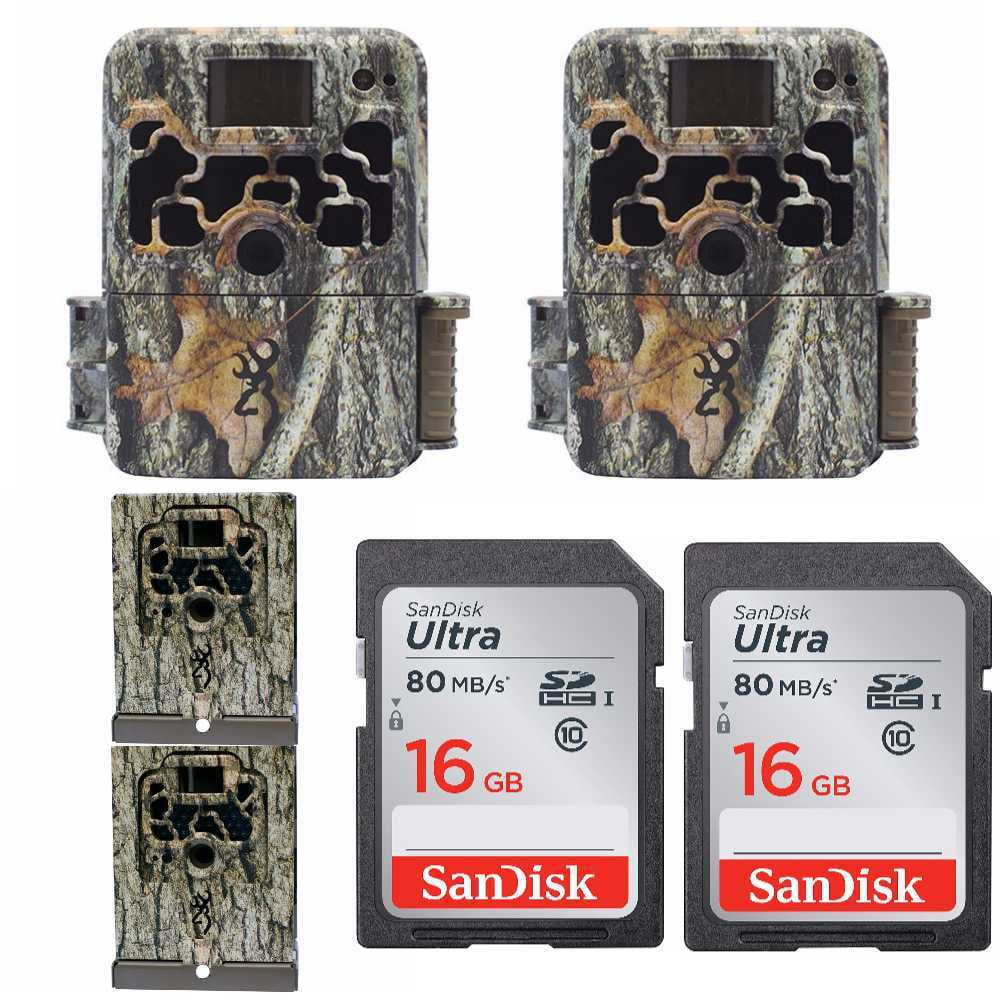 Browning Trail Cameras Dark Ops 940 Game Camera (2 Pack) with Boxes and SD Cards
$319.99
In stock at Walmart - Click More Info / Buy Now to check for price rollbacks!
on 10-2-2018.
BUY NOW
Item Description

Browning Dark Ops 940 HD Trail CameraBrowning Dark Ops 940 HD Trail Camera is part of the best-selling, highest performance trail camera line in the industry. It instantaneously captures high quality 16MP photos and 1280 x 720 HD video with sound as soon as game moves into its 80 foot detection range thanks to its 0.4 second trigger speed. The "Invisible Flash" technology eliminates any visible flash while capturing crystal clear nighttime images and video. Smart IR video detection system conserves battery and memory by only recording video footage when game is in front of the camera.
High Quality Pictures and VideoThe Browning Dark Ops 940 HD Trail Camera is equipped to take high quality 16MP still photos and 1280 x 720 HD videos of game that look great on small viewing screens, computer screens and larger HDTV screens. It captures high definition video clips with sound from 5 seconds to 2 minutes in length during the daytime and up to 20 seconds in length at night. This trail camera's Smart IR detection system records when game is within its range and stops recording when the animal moves out of the its range to optimize battery life and memory. It also features an ultra-responsive 0.4 second trigger speed to capture images of any buck as soon as it walks across the frame.
Invisible Flash TechnologyIn order to stealthily capture the best quality still images and clips even when it's pitch black outside, the Browning Dark Ops 940 HD Trail Camera employs invisible flash technology. Infrared lights illuminate up to 80 feet of area with infrared light that only the trail camera's sensor can detect. Since infrared lights are undetectable to game, you won't have to worry about animals being scared off by a sudden burst of bright light.
Robust FeaturesThe Browning Dark Ops 940 HD Trail Camera has a built-in USB output that allows easy connection to computers and the time, date, temperature, moon phase, and camera ID information are displayed on both photos and videos. Multi-shot mode enables up to 8 images to be shot at a time while Timelapse Plus mode snaps infrared triggered time lapse images. This trail camera has a long life from 6 AA batteries that will last months at a time as well as an extremely robust 512GB SD card compatibility.
Browning Trail Camera Security BoxBrowning is committed to designing and manufacturing the most covert, innovative, and powerful game cameras on the market. The Browning Trail Camera Security Box is a robust camera security box specifically designed for Browning's line of wildlife cameras. Constructed out of 16 gauge steel, the security box was built to withstand anything that nature can throw at it. The security box prevents against, weather damage, animal interference, theft, and will have your game camera staying exactly where you left it. The Browning Trail Camera Security Box can be locked with a standard padlock or a Master Lock Python cable for maximum protection.
Built to LastBrowning is made up of a group of avid hunters and outdoor lovers who understand what it takes to truly conquer the outdoors. Browning's trail camera security boxes keep your game camera exactly where you left it as the 16 gauge steel box protects your game camera against all kinds of dangers. Protect your investment and protect your wildlife camera with Browning's Trail Camera Security Box.
Features & Specs
INVISIBLE FLASH: Infrared lights illuminate up to 80 feet of area, and since infrared lights are undetectable to game, you won't have to worry about animals being scared off
BUILT-IN USB: The Browning Dark Ops 940 HD Trail Camera has a built-in USB out
---