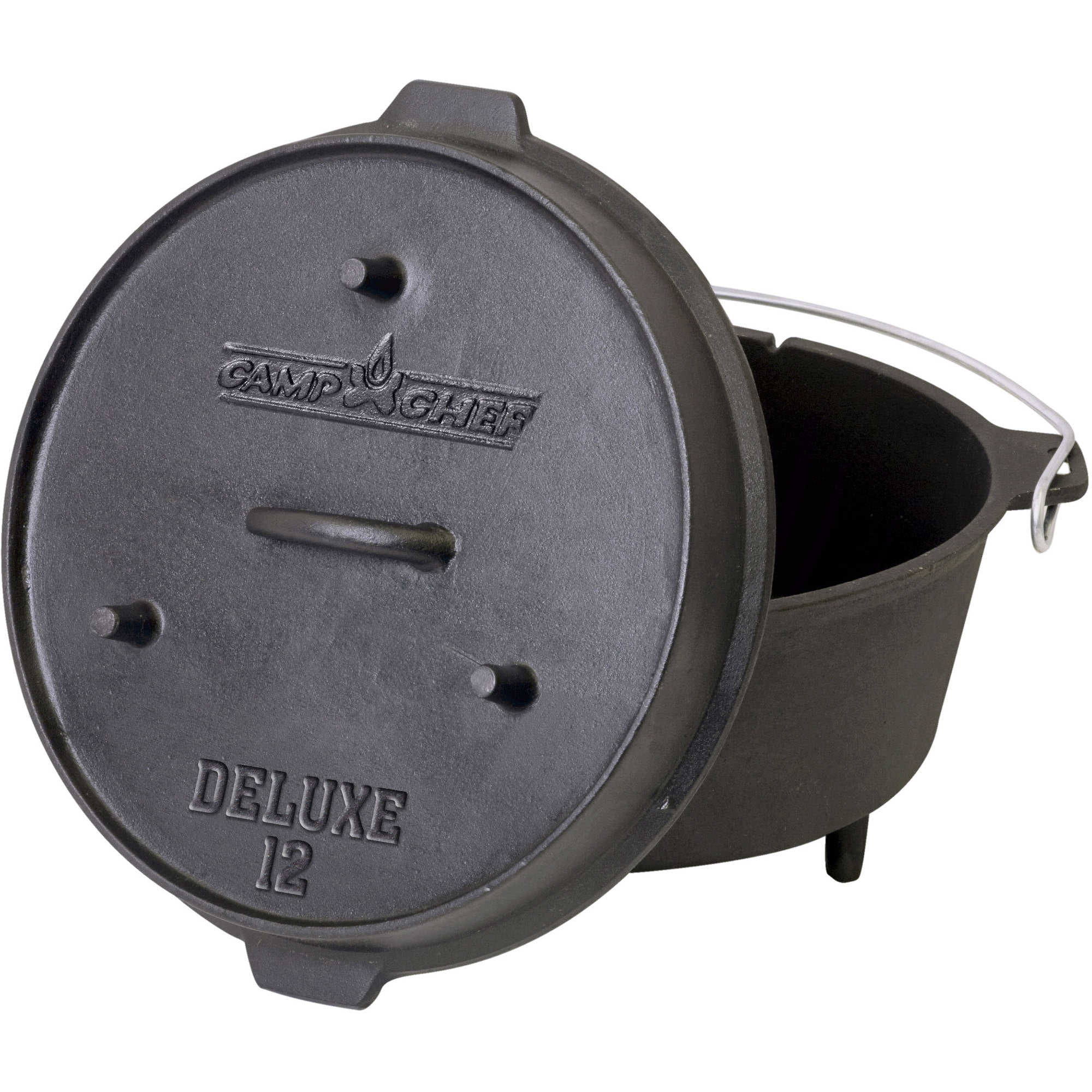 Camp Chef Pre-Seasoned 9-1 3-Quart Cast Iron Dutch Oven
$48.43
In stock at Walmart - Click More Info / Buy Now to check for price rollbacks!
on 10-3-2018.
BUY NOW
Item Description
Camp Chef Pre-Seasoned 9-1/3-Quart Cast Iron Dutch Oven:
Pre-seasoned finish so you're ready to cook
Deep-dish lid doubles as skillet or serving trivet
Includes lift tool for handling hot oven
Thermometer channel for checking temperature without lifting lid
Measures: 13.50L x 13.50W x 9.25H
Model# DO-12
Buyer Reviews
I love cast iron cook wear . I get warm fuzzes whenever I cook with it. The first thing I did when I got it use the lid to fry up some sliced potatoes. See Picture.This is perfect for my needs as 6 quart is too small and the 12 quart is too big for my stove. You get a dutch oven that transforms into a pot and a skillet. How cool is that!This Dutch Oven has feet and works on my gas stove without a problem. Even the lid works well as a skillet. Just need to rotate the lid a bit to find the sweet spot so it does not wobble due to the 3-D Yellow Stone Scene on the lid. I don't recommend using the lid on an electric stove as the loop in the center of the lid may get in the way.I weighed it and it is nearly 19 pounds! Heavy is good! Not easily knocked off the stove which is a good thing in my book especially if you are using it for deep frying.The Thermometer slot was a bit small for my cheap glass meat thermometer with the metal tip. The digital ones or the all metal dial ones should fit. It inserts horizontally in the notch between the lid and the pot. You can close off the notch by simply rotating the lid a bit.The lid hook has two sides that allow you to hook it from directly above which allows more stability if you are using coals on the lid or from an angle when used under a stove hood.SeasoningI rinsed everything with hot water first.I find real butter seems to enhance the nonstick quality of seasoned cast iron better than vegetable oils.Even though it is pre-seasoned I season the cooking surfaces of the pot and lid separately before I use it by heating each up very hot on the stove. I then smear real butter all around the interior surface with a silicon spatula and let it smoke for about 5 min and then turn off the heat. You kitchen will fill with smoke so turn on the hood vent and open all the windows. If you can stand the smoke then do it longer say ten min to really get a good bond. Keep rubbing the butter around as it cools. Blot up the rest of the browned butter with a paper towel or two. Your cast iron cookware will be ready to use! YAY! :-DI use a quick version of the above procedure before I cook something that I know will be sticky like scrambled eggs or starchy potatoes if the cook surface looks dull and dry. I let the butter smoke for about a min then allow the cook ware to drop to cooking temperature and then add the food.The PROs of cast Iron:Steady even heat.It will last forever. You just re-season it if the nonstick stops working.You can use metal spatulas, forks, knives on the surface.If some of the black comes off its nice to know its just Oil. No \"toxic inch chemicals!You can't ruin it by leaving it on the stove with nothing in it! Just re-season it. Can't do that with other coated pans.You can bake with it.Cast IRON CONsCast Iron is not for everyone.It requires a certain amount of maintenance to keep it at its best. Some may find its more hassle than its worth.Everything on cast iron gets hot so no cool touch handle to grab. Always use oven mitts if you have to touch the cast iron.It's very heavy so not for people who have trouble lifting heavy things.It's not for Sanitizing Freaks. You never want to clean a cast iron pan completely as it has to have a thin film of oil on it to protect it. If you cook something and nothing sticks just wipe it out and you are done. The heat will kill any bacteria the next time you use the cast iron. I always heat up the empty pan before I cook and spread a bit of butter on it before I add the food.Can't clean it with a dishwasher. It will rust. If it does rust then just use a wire brush to remove the rust and re-season it.Its ugly! To some people. If you are looking for cookware that will shine and looks expensive then cast iron is just too old fashioned and poor looking.
Features & Specs
Deep-dish lid doubles as skillet or serving trivet
Includes lift tool for handling hot oven
Thermometer channel for checking temperature without lifting lid
---